Christian Science Church - Darien, CT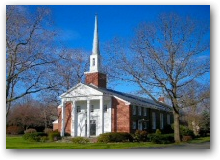 Sunday Services
Welcome to First Church of Christ, Scientist in Darien, CT Our church is located at 2331 Post Rd.
Sunday services include readings from the Bible and the textbook of Christian Science - Science and Health with Key to the Scriptures, by Mary Baker Eddy.
Sunday School
Sunday School is provided for children and young people up to the age of 20.
Wednesday Evening Services
Wednesday testimonial meetings include readings from the Bible and Science and Health. Then attendees are welcomed to participate by sharing accounts of healing and spiritual insights. The meeting also includes prayer and hymn singing.
Children's Room
The Children's Room provides loving care for infants and small children during all services.
Reading Room
Our Reading Room is a community bookstore and reading center for the exploration of spiritual healing, prayer, and spirituality. It is located at 1904 Post Road. Hours are Mon-Fri 10 AM - 3 PM.
Quick Reference
Church Location
View Larger Map
Reading Room Location
View Larger Map
Address
Church:
2331 Post Rd
PO Box 3435
Darien, CT 06820
(203)655-3407

Mail:
PO Box 3435
Noroton, CT 06820

Reading Room:
1904 Post Road
Darien, CT 06820
(203)655-2772
Sunday Service and Sunday School
10:30 AM
Wednesday Testimony Meeting
8:00 P.M
Reading Room
Mon-Fri 10AM-3PM
Sat 10AM-1PM
You are always welcome at our services.
Email the Church